Water Activities
Montego Bay's water activities are known globally and attract families of all ages, adventurists and vacationers.
Jet Ski Rental
Jet Skis are for rent at Aqua Sol Beach.
Sailing Charters and Deep Sea Fishing
39' Phoenix tournament-equipped sport fishing boat...plus 51' Sun Cat Catamaran and 51' Free Style Trimaran each can carry 60 guests w/crew of 5. Snorkeling, sunset and private party charters. Sails twice daily for individual bookings, group rates or full private charter. Pick-up points are normally at Margaritaville in Montego Bay (20 minutes from Silent Waters Villa) or Round Hill (10 minutes from Silent Waters Villa) depending on scheduling. See our Property Manager for rates and reservations.
Scuba Diving & Snorkeling
Captain's water sports at nearby Round Hill offers guided dive trips with our experienced Dive Master on our 200hp, 23' dive boat. Ten minute drive from Silent Waters Villa. For more information contact Tel: (800) 972-2159, (876) 956-7050, Fax: (876) 956-7505, or visit Round Hill Jamaica.
Chukka Caribbean Adventures Ocean Safari
Ride the Caribbean blue in a magnificent boat made "just for two." The tour starts with a scenic bus ride that takes you to a private beach where you will be transported to the Middle Reef by Ocean Ferry. After a brief orientation, your guides pair you with your partner (seated behind you) in your own controlled sea vessel. Cruise along the reefs expertly guided with a stop at the beautiful Middle Reef. Enjoy a half hour of snorkeling amongst the fish population, then return to the beach where you can relax on the sand or swim in the coastal waters. Browse for souvenirs of your marine experience and purchase refreshing drinks. Tour is 3 hours including 20 minutes of snorkeling. Driver 18+ years / passengers 10+ years. Tel: (876) 953-6699 or visit Chukka Caribbean Adventures Ocean Safari.

Dolphin's Cove at Treasure Reef
Jamaica's number one marine attraction.  Experience this rare opportunity to play and swim with a family of Bottle Nose Dolphins.  Visitors may also hold, feed, swim and learn about the Caribbean sharks and interact with stingrays (barbs removed).  Take a glass-bottom kayak ride or captain your own mini-boat.  This natural cove is surrounded by 5 acres of lush tropical rain forest and offers glistening white sandy beaches in which to relax and enjoy the tropical surroundings.  Located in Ocho Rios adjacent to Dunn's River Falls.  Tel: (876) 974-5335 or visit Dolphin's Cove. Also new location at Point Lucea in Hanover.
MoBay Under Sea Tours
See colorful marine life and fishes of the Montego Bay Marine Park in a new and unique air-conditioned vessel, the "Coral See." The "Coral See" is a semi-sub reef explorer vessel, where passengers go down into the hull and view marine life through panoramic viewing windows. Passengers will also see a scuba diver feeding the ever-hungry reef fish. Throughout the cruise a marine life expert will explain the features of the reef and its occupants and answer any questions. For more information contact Tel: (876) 940-4465; Fax: (876) 979-2281 Hours of operation Sunday - Saturday 8:30am - 5:30pm
Waterslides & more… Margaritaville in MoBay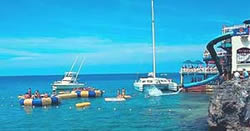 Located on Gloucester Avenue (popularly known as Hip Hop Street) on the sea. A well-known attraction with both adults and children is the 110ft waterslide, which winds its way from the roof above into the Caribbean below and the two giant water trampolines anchored just offshore. On the lower deck and pier, Jamaica Tourist Board approved water sports operators offer parasailing, sailing cruises, snorkeling and semi-submersible submarine tours.
Over the years, Margaritaville has entertained rappers Nelly, Busta Rhymes, Germaine Dupree, P'diddy and Run DMC. Big name celebrities like Dennis Hopper, Danny Glover, Joan Collins, Cindy Crawford, Tiger Woods, Uma Thurman and David Hyde Pierce all agree, Margaritaville is the most fun this side of Paradise! Check for weekly cruise ship schedule, as the restaurant gets very busy on ship days. For more information contact Tel: (876) 952-4777, or visit Margaritaville in MoBay.
Whitewater Expeditions "Cool Rapid Runnings"
A one-hour drive from Montego Bay or less than 45 minutes from Negril brings you to this exotic natural water park. Bug-free year round 80-degree weather, a constant flow of clear warm spring waters, and 14 class 2 & 3 rapids, the Cabarita river in western Jamaica is a marvelous introductory whitewater rafting trip. This adventure is suitable for people of all ages and abilities. Operated by My Tropical Escape.
River Attractions - River Rafting
Martha Brae River Rafting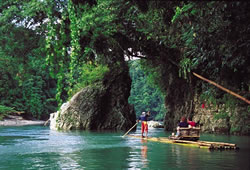 The Martha Brae River is located on the south coast (approximately 1-1/2 hours east of Silent Waters Villa) in Falmouth, Trelawney. All ages will enjoy the thrill of bamboo rafting, entertaining folklore and the stunning Luminous Lagoon of Glistening Waters. Daytime rafting along the river is popular and inexpensive and offers beautiful natural scenery and wildlife. Enjoy a 1 hour 15 minute raft ride or take a tour. An evening rafting trip can be a very special experience as the rafts take you to the Luminous Lagoon where the river meets the Caribbean Sea. The river is home to a rare phosphorescent microbe that lives in the shallow warm place where salt and freshwater meet. The constant flow of the river moves the microbes and causes them to glow. Movement of the water and activity from boat tours and swimmers enhance the effect. When the boats stop, riders can enjoy swimming or relaxing in the warm shallow (5 - 8 feet deep) areas of the lagoon and see the water glow around them. See our Property Manager for rates and reservations. Tel: (876) 940-6398 / 940-7018 or visit Martha Brae River Rafting.


Mountain Valley Rafting at Lethe

Float downstream on a bamboo poled raft and see Jamaica's beautiful countryside. Enjoy a 1 hour 15 minute raft ride or take a tour. The tour begins on winding roads through Jamaica's mountainous interiors with lush tropical vegetation on either side of the road and takes you to the little village of Lethe. There you will board a bamboo raft built for two persons and be guided by an experienced raftsman down the river. Enjoy the rich vegetation and coolness of the trees as you cruise through the clear, deep pools and over mild rapids. When you arrive at the recreation area at the end of your raft ride you are invited to sample local fruit punch, coconut rum or coconut water and learn about the history of the coconut. Your final stop will be at the City Centre Shopping Complex where you may browse the many duty-free, souvenir and specialty shops. The tour is approximately 4-1/2 hours. A Jitney tour of the area and lunch are optional. See our Property Manager for rates and reservations. (Approx. 30 minutes from Silent Waters Villa). Visit Mountan Valley Rafting at Lethe.
Chukka Caribbean Adventure's Jungle River Tubing
Drive through the untouched jungle terrain of Jamaica's interior to arrive at the waters' edge of the Great River. Upon arrival, you will be given an orientation complete with safety tips. You will be assigned your tube and your adventure down the river begins. Attentive guides will provide you with interesting commentary and information while navigating the rushing rapids of the Great River. Sit back, relax and enjoy Jamaica's natural beauty - experience the rush, the excitement and the thrill brought on by the different moods of the river. Fun for all ages. The trip is about 2-1/2 hours. Bring a towel, swimwear and cash for souvenirs, lunch and drinks. Hours of operation Sunday - Saturday 8:00 am - 5:00 pm. See our Property Manager for rates and reservations. Tel: (876) 953-6699 or visit Chukka Caribbean Adventures Jungle River Tubing.