We cannot say enough about the exceptional staff at Silent Waters Villa. Our gracious staff will help to create and build wonderful memories for an extraordinary Jamaican holiday. The outstanding service that they provide to all of the villa's guests is one of the reasons for Silent Waters Villa winning the Caribbean Travel & Living Awards "Best Luxury Villa of the Year" for nine years straight. Most of the staff have been working at Silent Waters Villa either from the original opening date in 1998 or shortly thereafter, which is a tribute to them and to the villa owners. Silent Waters' staff of 14 includes the Property Manager, Office Assistant , Head Chef, Assistant Chef, Butler / Bartender, Housekeepers / Food Servers, Laundress, Maintenance Supervisor, Gardeners and Security Guard.  All of the staff are friendly and eager to make your group feel wondrously pampered. 
Our Property Manager is Ms. Jean Lawrence, a Canadian with a gift for attention to detail. She will do whatever possible to make certain your villa holiday is an incredibly memorable experience.  The Chefs prepare exquisite Continental, Nouveau, Caribbean and Jamaican cuisine and will work with your group for menu selection and special dietary needs.  The butler remains at your beck and call, serving you and making certain that you are never lacking in libation. 
The Housekeepers will make certain that each Guest Suite is exceptionally clean, comfortable and welcoming.  Guest Suites are normally cleaned and prepared twice daily. The Maintenance Supervisor and Gardeners will make sure that the beautiful landscaping and villa property is maintained to the highest standards.  Of course our Security Guard's top priority is our guests' safety.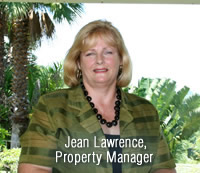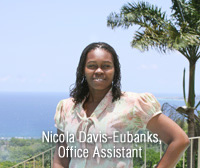 The guests' privacy is also a main concern of our staff, so they are not intrusive.  And, if complete privacy is desired Ms. Lawrence will make sure that the staff stays out of sight.  
Gratuities
Gratuities are not included in the rental price.  Recommended gratuities in Jamaica for villa rentals are 10% of the rental rate in High Season and 15% of the rental rate in Low Season.  These percentages apply to the entire staff, not each individual staff member, and are distributed by our Property Manager among the staff members based on position and seniority. 
Marlon Jarrett,
Head Chef
John Bernard, Security, Jermaine Barnes, Paul Gordon, Ian Walcott and Everald McKenzie, Grounds Maintenance

Gary Chambers, Maintenance Supervisor
Arlene "Liz" Henry, Rose Ann Buchanan, Raquel Muir, Housekeeping